Posted on April 8, 2019
Marijuana Doctor hit the streets of Miami this weekend to help celebrate and be a part of the Miami Pride Fest. The week-long event brings together groups of lesbian, gay, bisexual, and transgender people, and their friends, supporters, and allies in a unique gathering that highlights the spirit and culture of the community. It all culminates in the annual Pride Parade and Festival, the ultimate opportunity for South Florida LGBTQ families to stand tall in front of the city — and the world — at one of the hottest parties Miami has ever seen.
Growing from 40,000 attendees in 2011 to more than 145,000 in 2018, Pride has become a major draw for revelers from all walks of life and across the globe.
This year the team at Marijuana Doctor took to the festival to not only join in the fun but to spread the word about Florida's leading medical marijuana evaluation clinic. After all, Miami Pride fest is not only one of South Florida's biggest parties of the year, but also an educational and cultural experience for all who attend. It's the perfect venue to share and exchange ideas and to talk about medical cannabis with the public.
Of course, the event itself was amazing. There were two stages set up with DJs and entertainers, hundreds of vendor booths, and thousands of people gathered to have fun and share in the experience.
And when it came to the booths, we saw a number of our preferred partners, dispensaries like Trulieve. We had a wonderful time catching up with them and helping to further the conversation about medical marijuana in South Florida.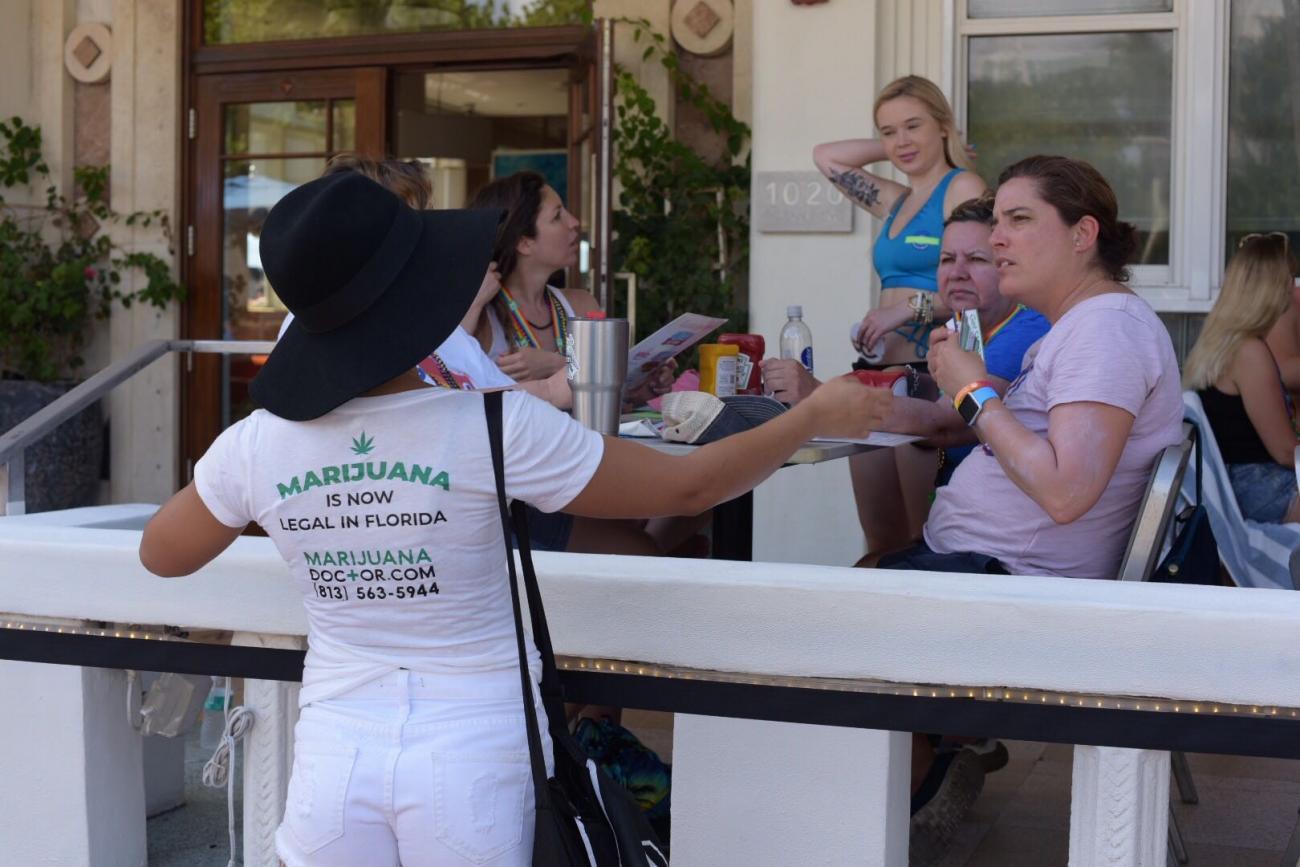 Accessing Medical Marijuana in South Florida
Now that medical cannabis is legal in Florida, patients who qualify can come to Marijuana Doctor for an evaluation — our physicians make the process not only simple but comfortable for you as a patient as well. In fact, under Florida law, physicians can recommend medical cannabis in a variety of forms, including edible, oil, spray, or tinctures. Recently, the state legislature even passed a law allowing for smokeable forms of medical cannabis.  
The best part is that patients can access three 70-day supplies of their medical cannabis with a single prescription. That means no running back and forth to obtain new prescriptions every month.
Some of the qualifying conditions include Amyotrophic Lateral Sclerosis (ALS), Arthritis, Chronic pain, Crohn's disease, and Depression and anxiety. But it's important to speak with someone at Marijuana Doctor to see if medical cannabis is right for you.
Showing Our Pride
We had a blast at this year's Pride Fest in Miami. And Marijuana Doctor is proud to support the LGBTQ community and their friends and allies.
We're also proud to support the medical marijuana community in Florida as well. We know that patients seeking medical marijuana need a recommendation from their physician. At Marijuana Doctor, we're here to help you navigate the entire process from beginning to end. Our board-certified physicians will evaluate you to determine if you may benefit from medical marijuana.
And after you've received your recommendation, we'll help you with the registration process with the Florida Department of Health as well. Best of all, our process is risk-free with a 100 percent money-back guarantee. If you don't qualify, you don't pay.
You can check to see if you're eligible for a medical marijuana card in Florida, or you can schedule an appointment online with us now.
_____________________________________________________
Contact Us
If you believe that you may qualify for a Florida medical marijuana card, don't hesitate to ask for help! Call us at (844) 442-0362 or schedule your free consultation online.